Talalla House is unrivalled when it comes to location.
Day Trips & Top Places to Visit in Sri Lanka
Not only are you on Sri Lanka's most beautiful beach, just around the corner are some of the island's most famous attractions – perfect for day trips.
Discover the leopard, elephant, and much more on a private Safari in Yala National Park. Take a stroll down the colonial streets of World Heritage site, Galle Fort, and visit the Handunugoda Tea Estate to experience firsthand the tea making process of the famous Virgin White Tea. Witness the mighty Blue whale just minutes out of Mirissa, and on your way back climb to the top of Dondra lighthouse, the tallest in Southeast Asia with magnificent views of the Indian Ocean.
The extraordinary Buddhist temple of Wewurukannala Vihara is just around the corner and greets you with a 50 meter high seated Buddha figure. A short ride along the southern coast is the Bundala National Park, home to thousands of colourful birds, including the Greater Flamingo. Fans of Sri Lankan architect and father of "tropical modernism," Geoffrey Bawa, should visit Ruhuna University. If you are into surfing, try the left-hander and enjoy a cold drink in Hiriketya, a short drive away.
…a wonderful concierge service which means that food can be ordered and trips organised in advance of your stay. The house also helped us organise a party with traditional dancers and fireworks.
– Family and Friends, Buenos Aires, Argentina
Enjoy a choice of 20 day trips, including your transportation, guides, and entrance fees.
Galle Fort (Distance 56 km)
Stroll around coastal ramparts, colonial villas, and atmospheric streets in Galle Fort, another UNESCO Site. The cobbled streets are lined with colonial houses, hotels, boutique design shops, and some of the best restaurants in the island. Originally constructed by the Portuguese in the 16th century and later fortified by the Dutch, it is the best preserved colonial city in South Asia. You can combine this
Yala National Park (Distance 94 km)
A private safari in Yala offers the chance to see some of Sri Lanka's 91 mammals. This is leopard country, and they are the lords of the jungle! With a leopard density that's higher than anywhere on this planet, these menacing predators prowl majestically in Yala. You may also see elephant, sloth bear, Sāmbhar, spotted deer, wild boar, ant-eater, civet cat, giant squirrel, and a lot of monkeys.
Whale Watching (Distance 24 km)
The Blue whale – the largest creature on Earth – as well as fin whales, sei whales, sperm whales, orcas (killer whales), dolphins, and whale sharks can all be seen a few miles off the South Coast of Sri Lanka. The best time of year is November until the end of April. Upon request, whale watching is also possible from July until October, but trips during that time of the year depend on weather and sea conditions.
Wewurukannala Vihara (Distance 11 km)
When approaching Wewurukannala Vihara, you can't help but notice the 50 m (160 ft) tall statue of a sitting Buddha, the largest in Sri Lanka. The temple dates back to the time of King Rajadhi (1782 – 1798) and it's often thronged with worshippers. Before reaching the Buddha, you pass through the hall of horrors full of life-sized models of demons and sinners. The enormous seated Buddha is as high as an eight storey building, and you can climb to its top for magnificent views of the surrounding area
Combine this trip with a visit to Mulkirigala Rock Monastery (see below).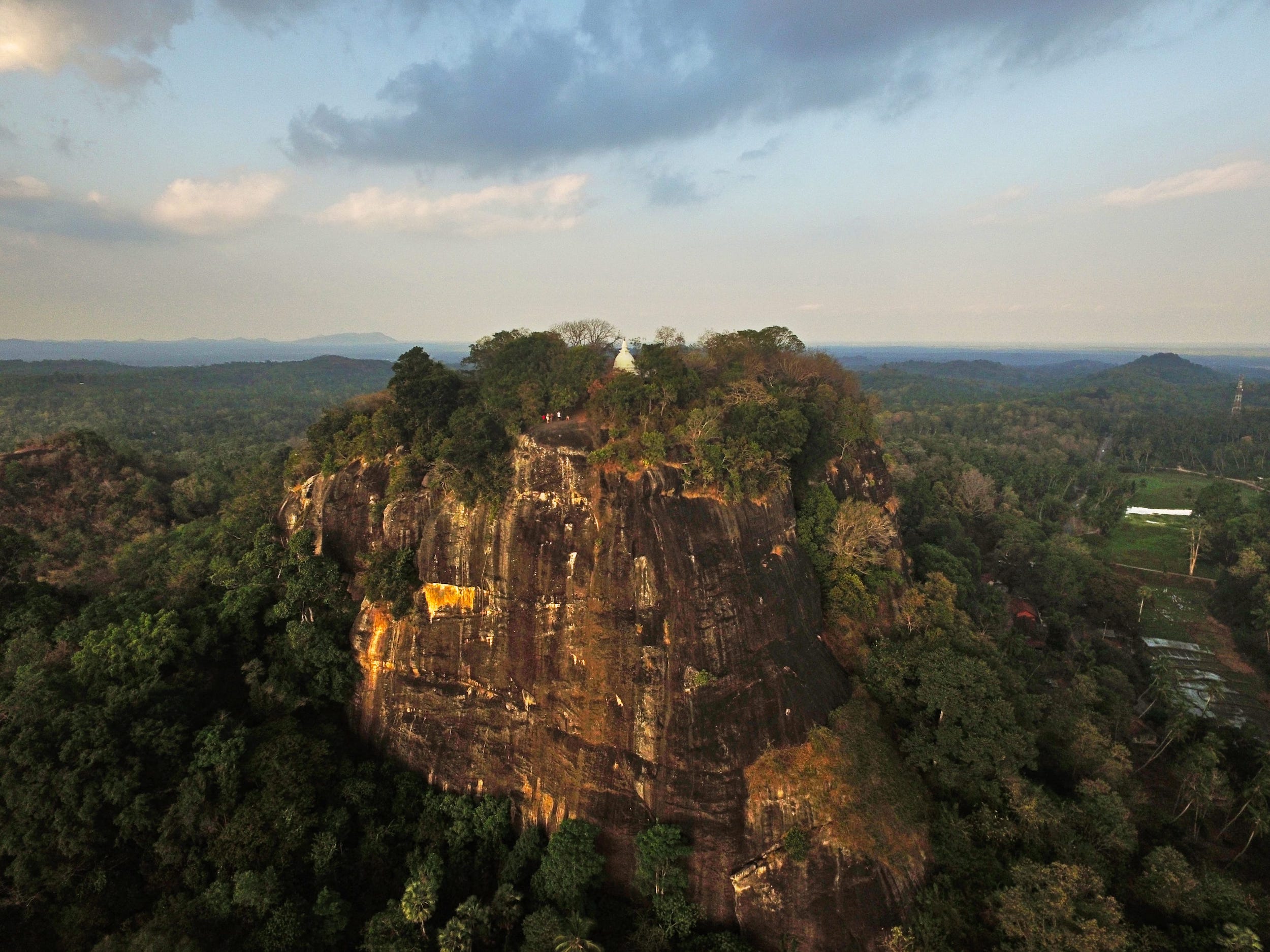 Mulkirigala Rock Monastery (Distance 11 km)
Mulkirigala is like a smaller version of the famous Dambulla rock temple in the north of Sri Lanka. The temple was constructed by King Saddhatissa in the third century AD and was further developed by King Kirti Sri Rajasinghe (1747-1782). Mulkirigala rises about 676 feet and consists of seven cave temples situated in multiple terraces at different altitudes. The caves have a mixture of religious and secular (non-religious) paintings, frescoes, and sculptures, including a 15 meter long sculpture of the dying Buddha. Climb the 584 steps to the top and you are rewarded with excellent views of the tropical jungle below.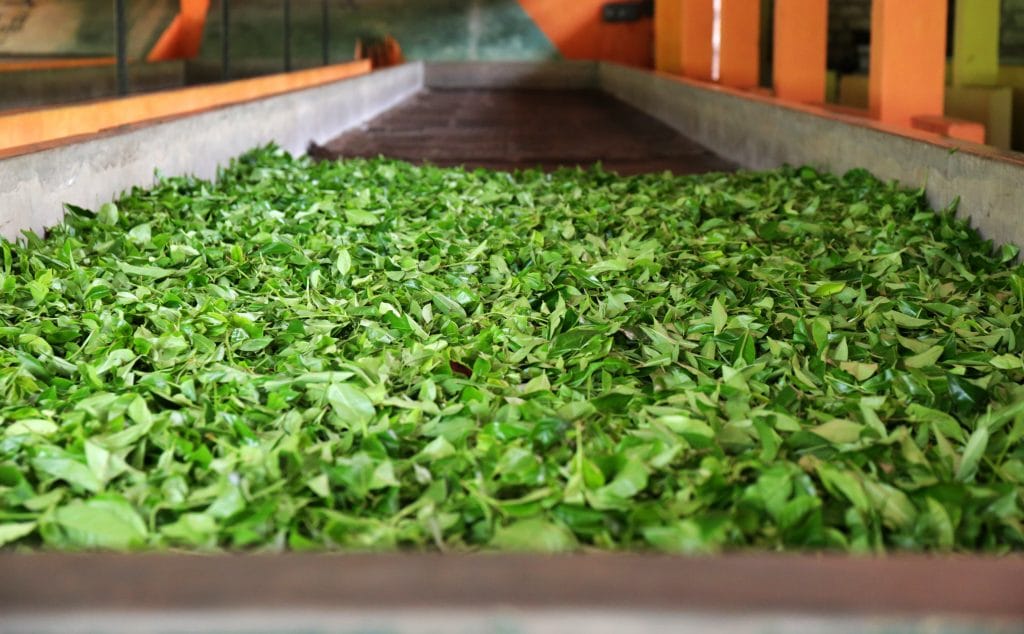 Handunugoda Tea Estate (Distance 40 km)
The British introduced tea plantations to Sri Lanka in 1867, and the country has become the producer of the world's finest teas. At Handunugoda Tea Estate, you experience firsthand the tea making process. Handunugoda produces the famous Virgin White Tea – a tea that's attracted the plaudits of tea enthusiasts all over the world. It is also one of the most expensive teas in the world, selling at 1500 USD per kilo.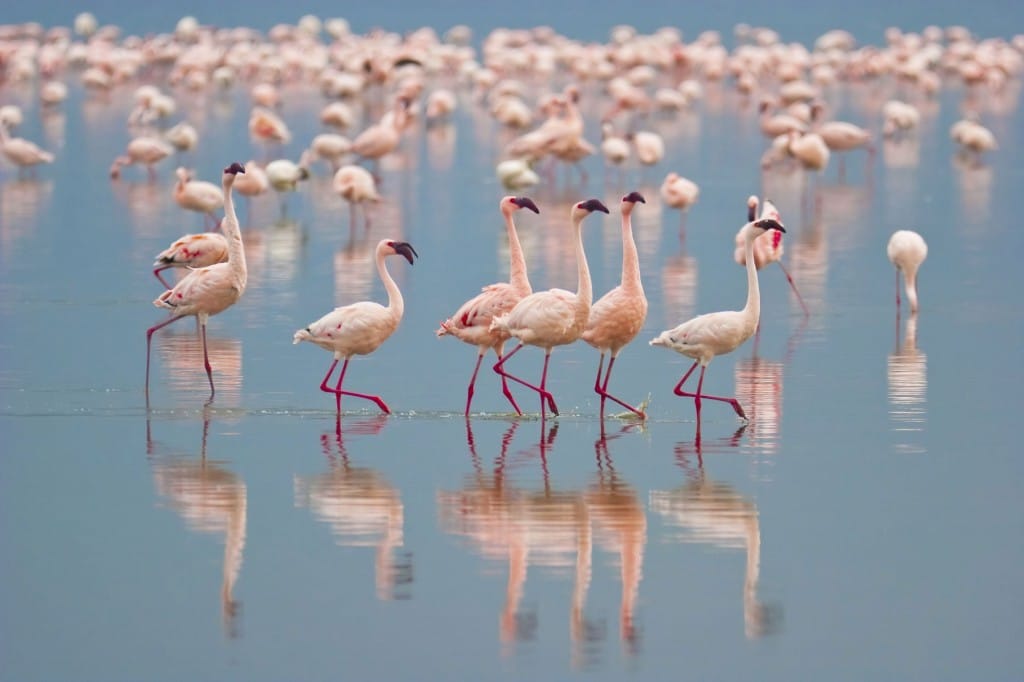 Safari and Flamingos in Bundala National Park (Distance 80 km)
Less visited than nearby Yala, Bundala National Park is a fantastic maze of waterways, lagoons, and dunes. This wonderland is home to 197 species of colorful birds, the highlight being the Greater Flamingo, which migrate in large flocks; up to 2000 have been recorded here at one time. Bundala National Park also has a small but very visible population of elephants, as well as civets, giant squirrels, and crocodiles.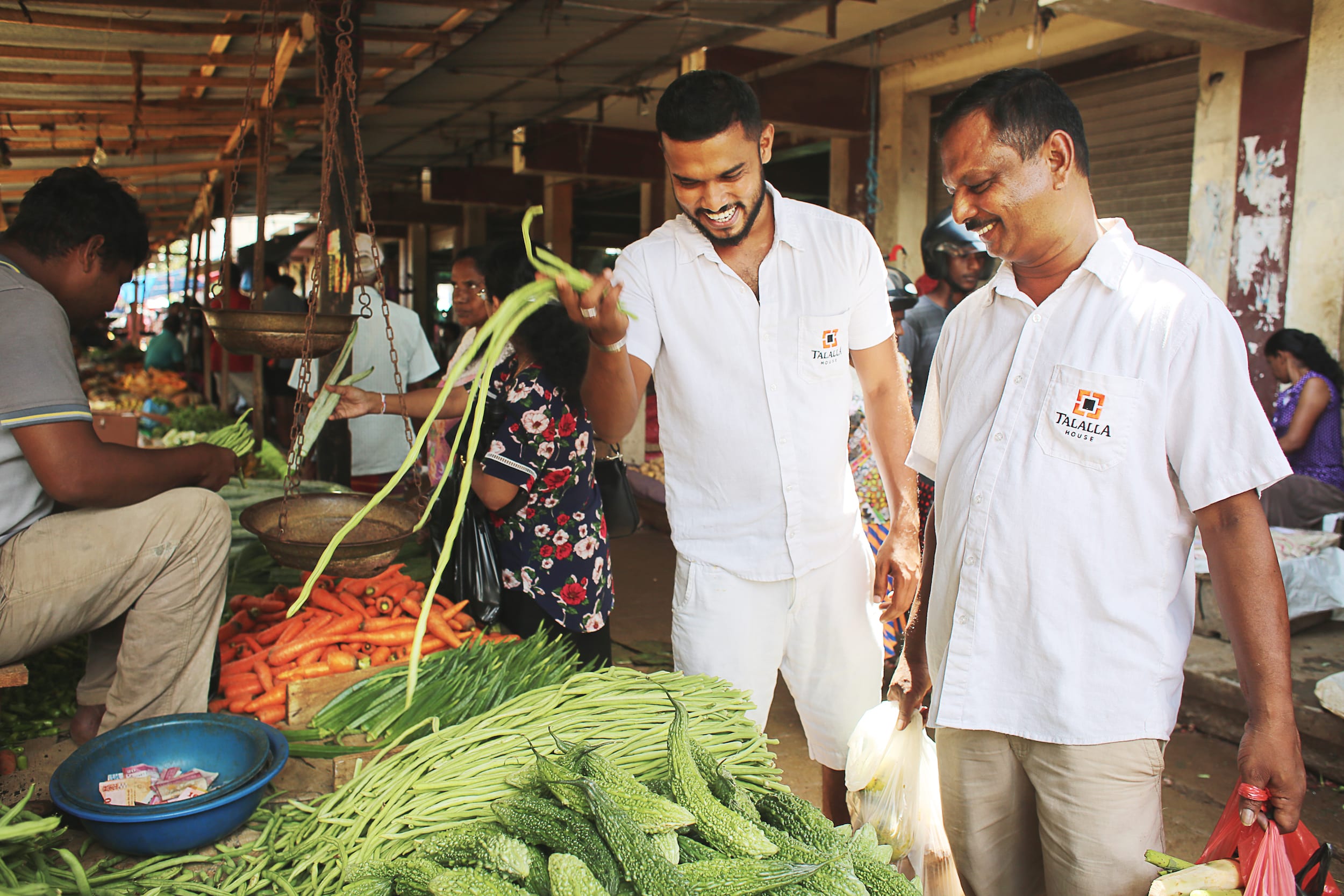 Bustling Market in Matara (Distance 15km)
Sunday is market day in Matara, just 20 minutes from Talalla. To see the most of what is on offer, you should arrive early in the morning. Some of the market is in a covered building, while other parts are outside. You can buy a wide variety of fruits, vegetables, herbs, fish, and even shark. The market is open every day, but Sunday is the big day, with hundreds of traders coming in from the surrounding villages.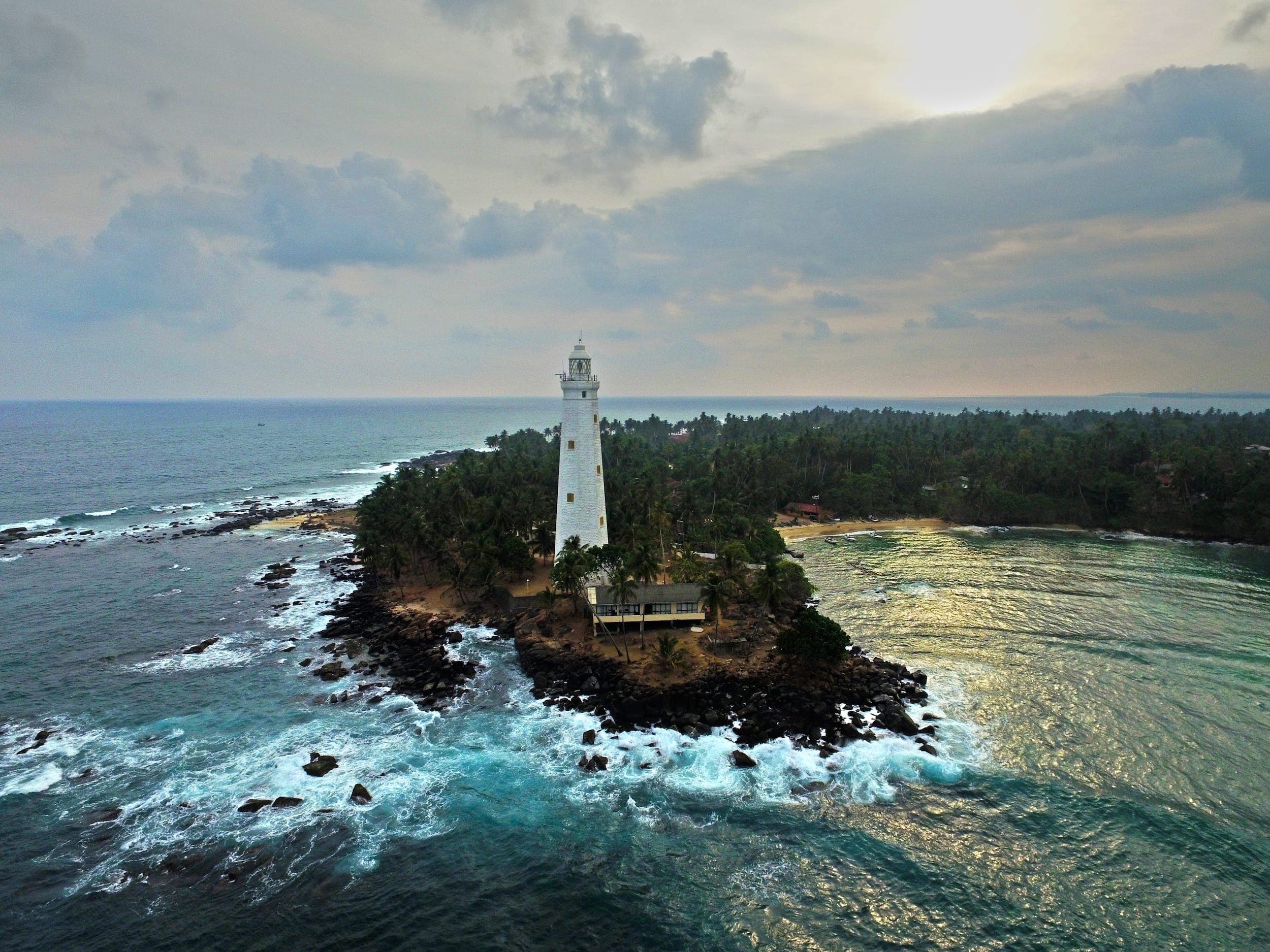 Dondra Lighthouse (Distance 7 km)
At the southernmost point in Sri Lanka stands one of the tallest lighthouses in Southeast Asia. Dondra Lighthouse was built by the British and completed in 1890. The lighthouse is still guiding ships in the Indian Ocean. A stairway leads you to the top, with views of the surrounding bays and villages. If you sail, or just look south from here, there are 8601 km (5344 miles) of endless, open ocean before you reach Antarctica – nothing in between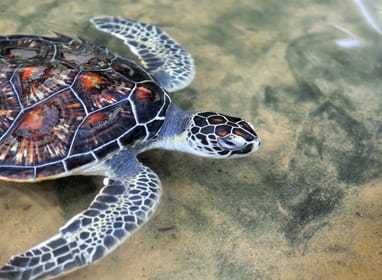 Turtles in Rekawa (Distance 36 km)
Out of seven turtle species, five species live in Asian waters and they all come to nest at Rekawa beach: Green turtle (most common, all year around), Olive Ridley turtle (common), Loggerhead turtle (rare), Hawksbill turtle (very rare), and the Leatherback turtle (very rare). The Rekawa Turtle Conservation Project conducts a "turtle watch" programme, which protects the nesting sites until the hatchlings return to the ocean. During a watch, you may witness a wonderful wildlife spectacle as a turtle starts laying her eggs.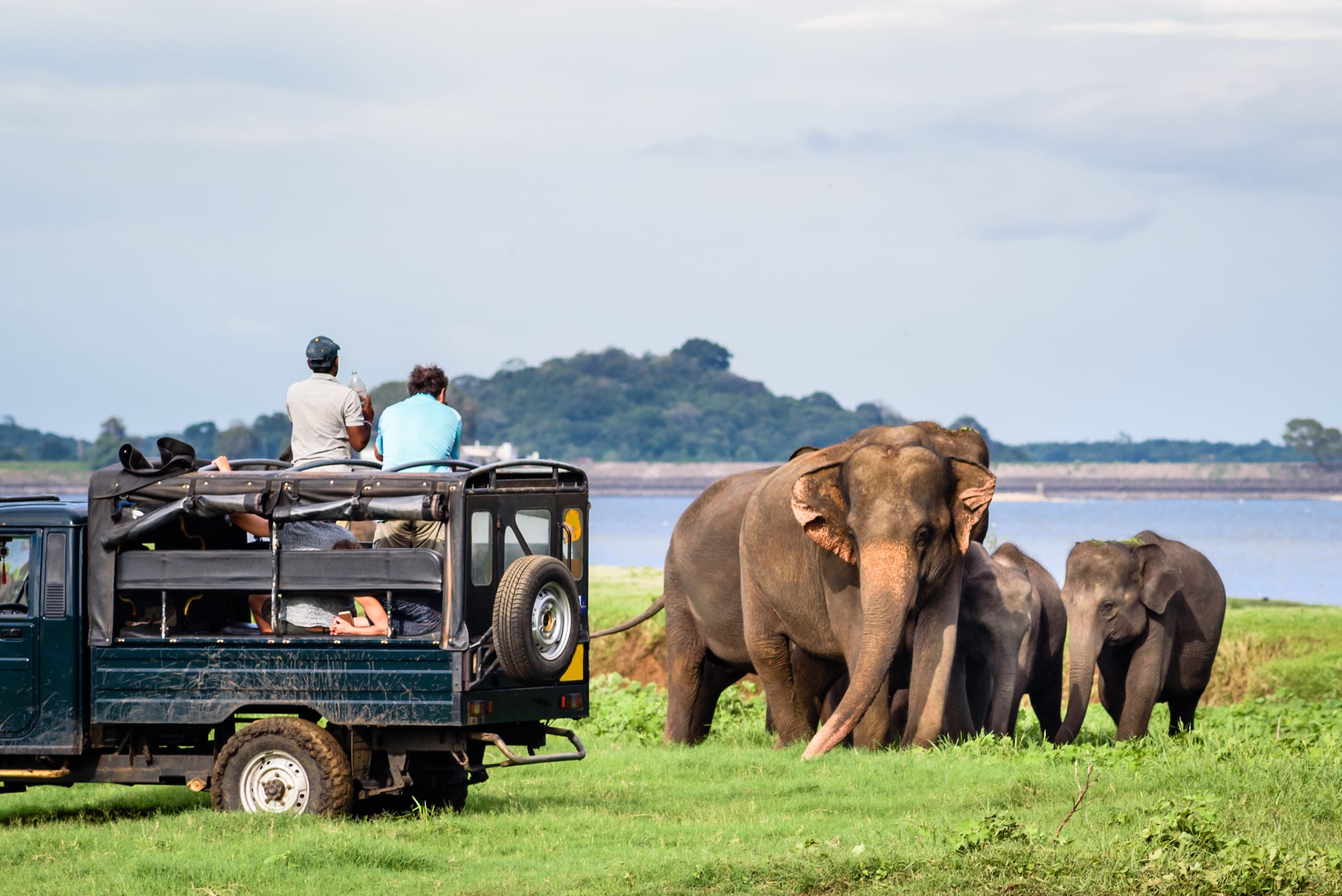 Elephant Safari in Udawalawe (Distance 75 km)
Udawalawe is the third most visited park in Sri Lanka and a major ecotourism destination, most famous for its more than 500 elephants and hundreds of buffaloes. During a visit, it is not unusual to see whole herds of elephants feeding or playing in the water. Many say that for elephant-watching, Udawalawe surpasses many of the most famous East African national parks. The only way around the park is by four-wheel-drive vehicle. Combine this trip with a visit to the Elephant Transit Home.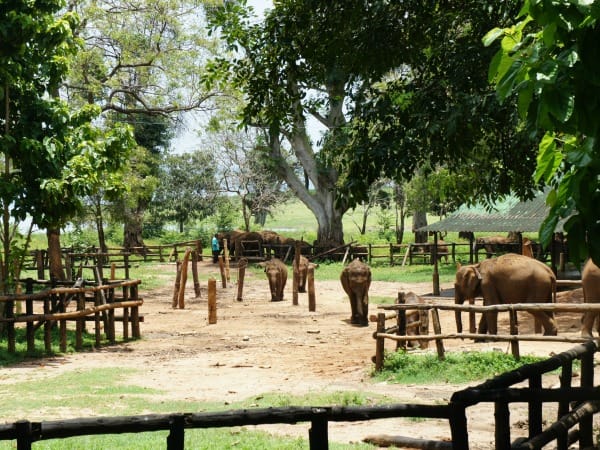 Elephant Transit Home (Distance 75 km)
If you are going to Udawalawe, then visit the Elephant Transit Home. The Department of Wildlife Conservation rescues orphan elephants, making sure they receive the milk, care, and medical attention they need before returning them to the wild when they are ready. From behind a barrier you can watch the elephants ambling along behind a keeper, into the compound where they will be fed.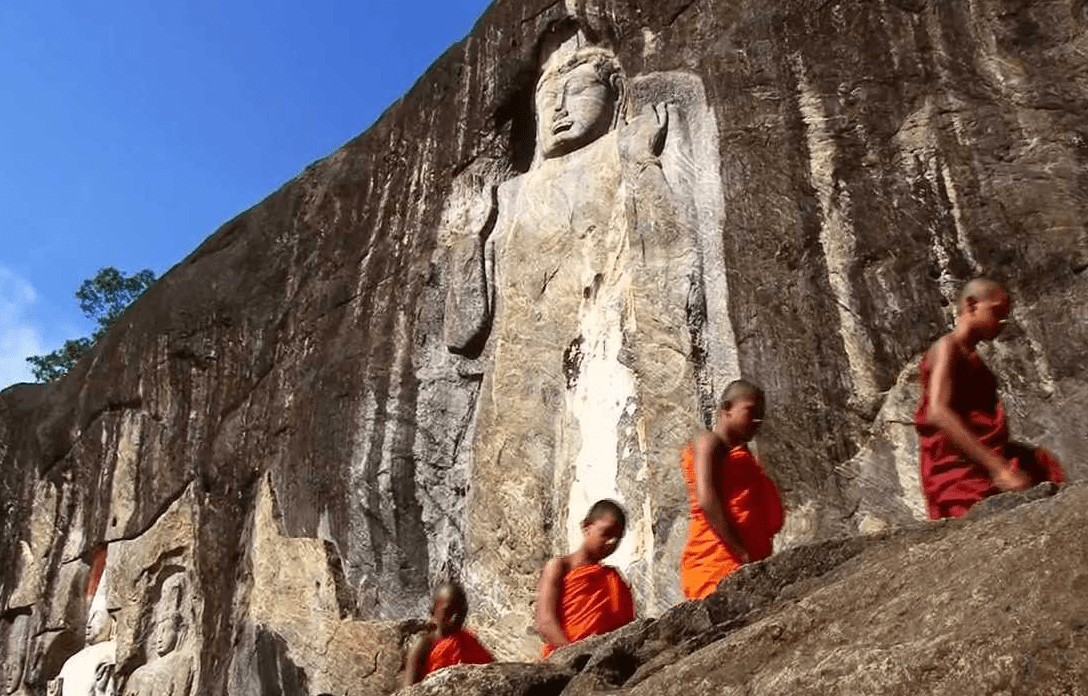 Buduruwagala Rock Temple (Distance 133 km)
The name Buduruwagala literally means "stone images of the Buddha." The site consists of seven magnificent figures carved out of a sheer rock face, and the central figure is the Buddha. At 15 m (51 ft), this Buddha is the tallest statue in Sri Lanka, higher even than the ones at Avukana and nearby Maligawila. Buduruwagala is believed to have been constructed in the tenth century during the reign of King Walagamba, and it is located within a rocky clearing of magical dry zone forests that is inhabited by colourful birds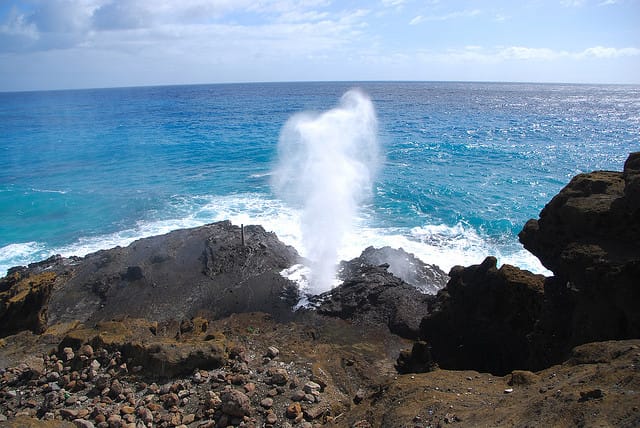 Hummanaya Blowhole (Distance 17 km)
Sri Lanka's only blowhole, reputed to be the second largest in the world, is located just 20 minutes from Talalla House. The blowhole is a small, triangular shaped underwater cave between cliffs. Wave action on the open sea is mirrored within the cave, where water and air are forced up into the narrow pipe and blown out the opening at the top. If conditions are right, these blowouts are spectacular – blowing water up to 25 to 30 meters in the air.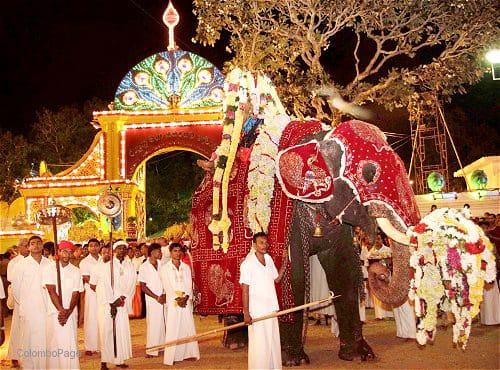 Kataragama: Holy place for Buddhists, Muslims and Hindus. (Distance 112 km)
Along with Adam's Peak, Kataragama is the most important religious pilgrimage site in Sri Lanka and is a holy place for Buddhists, Muslims, and Hindus alike. In July and August, the Kataragama festival draws thousands of devotees who make the pilgrimage over a two-week period, some walking all the way down the east coast from Jaffna, through the jungles of Yala. Kataragama is one of the 16 principal places of Buddhist pilgrimage. Tamil Hindus of Sri Lanka and South India refer to the place as Katirkamam, and it has a famous Hindu shrine dedicated to Lord Katirkaman.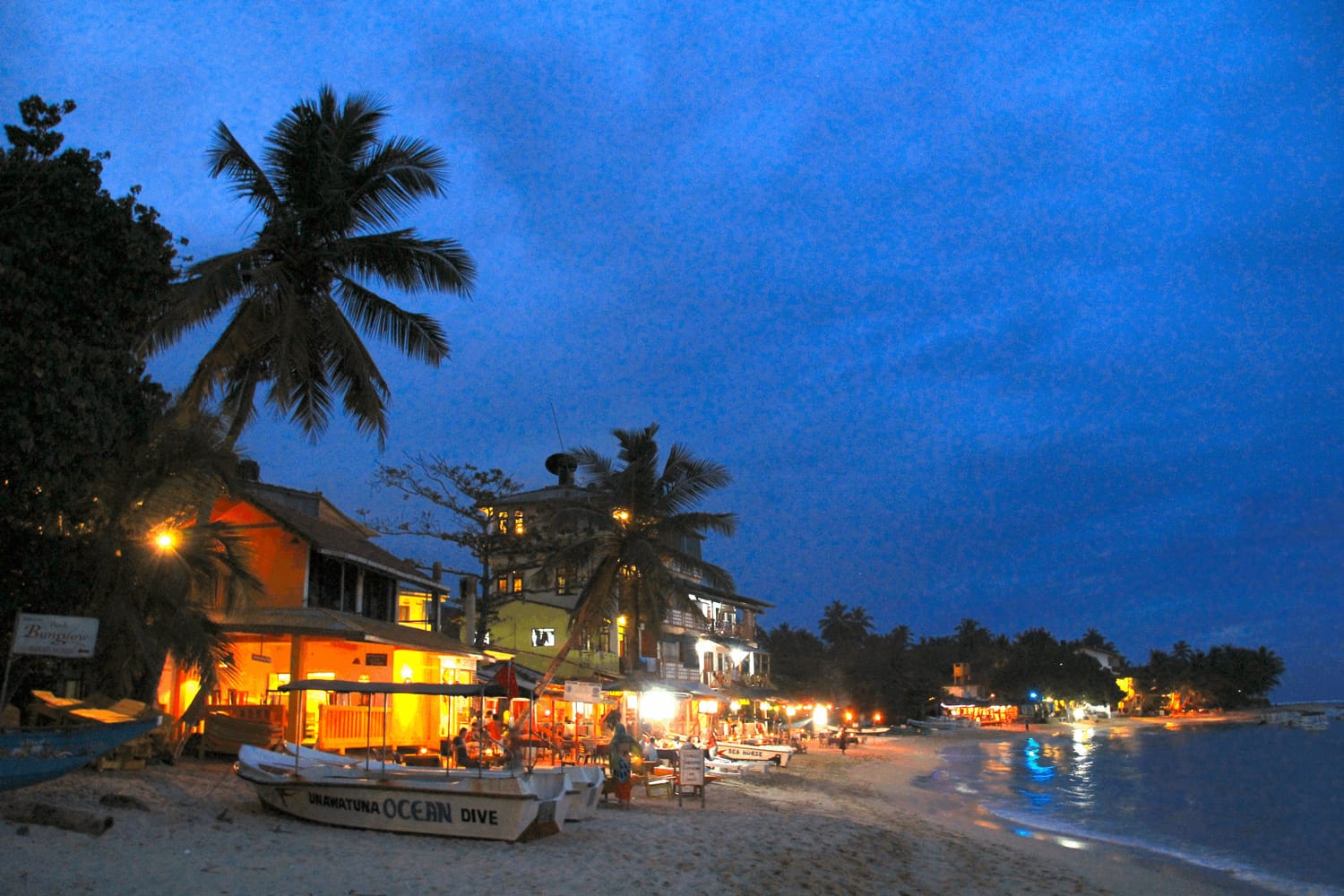 Unawatuna (Distance 55 km)
Unawatuna is a coastal town near Galle, named World's Best Beach by The Discovery Channel in 2004. That is no longer the case. Nowadays it's mostly known for its bars and many restaurants located right on the beach. Unawatuna is the place to go for dining on the beach and a fun night out. It's located just 15 minutes from Galle, so consider visiting both places in one day.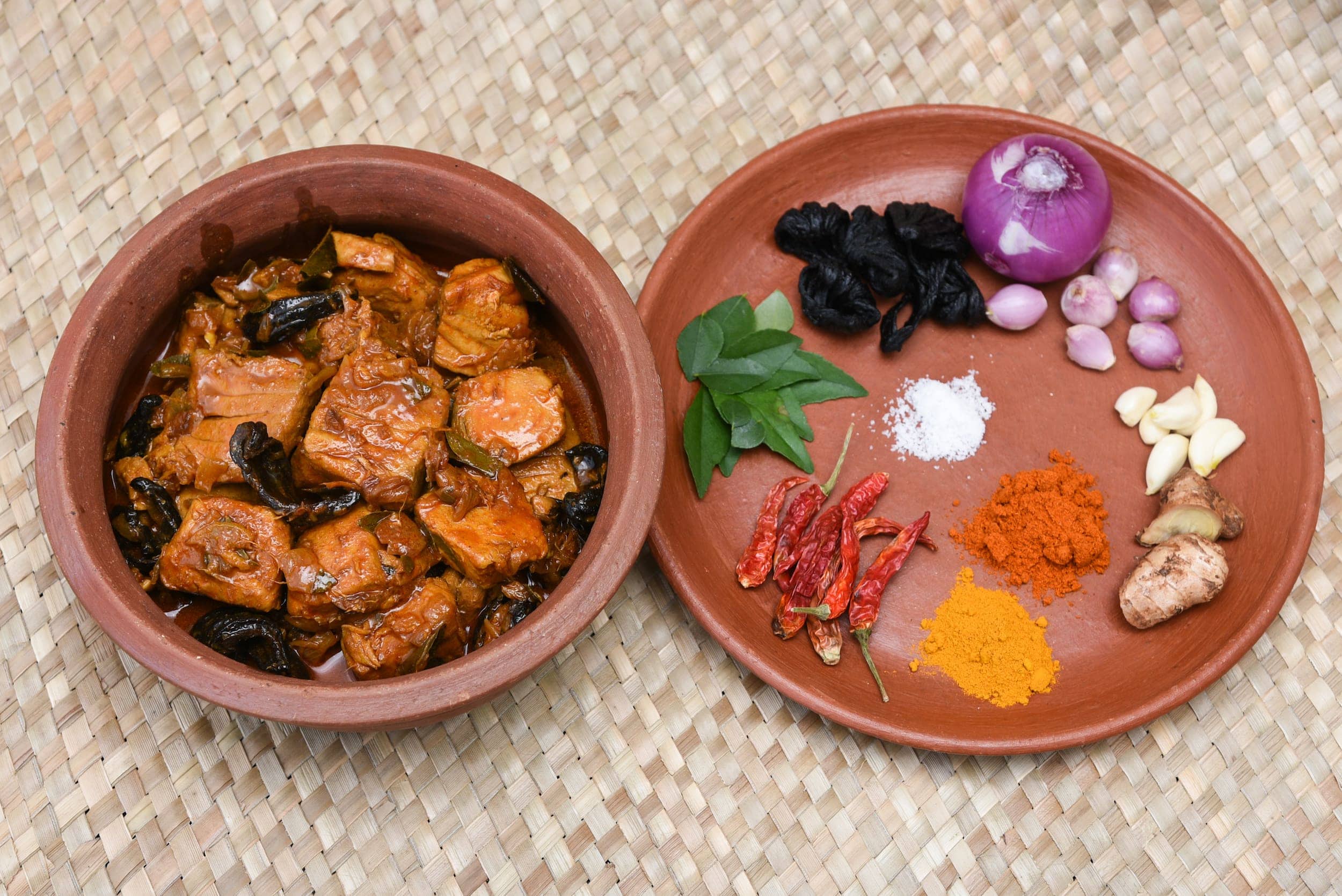 Sri Lankan Cooking Class (Distance 0km)
Let Chef Anthony help you recreate your favourite Sri Lankan dish. A cooking class is not only fun but a great way to learn about the Sri Lankan cuisine and why it's among the healthiest in the region.
Chef Anthony will guide you through the preparation phases of roasting and grinding the spices, making of hoppers and string hoppers, and much more. After the cooking class you get to eat all the dishes that you prepared.
Combine this with a visit to the fresh market, to bring home the spices and vegetables for your favourite Sri Lankan dish.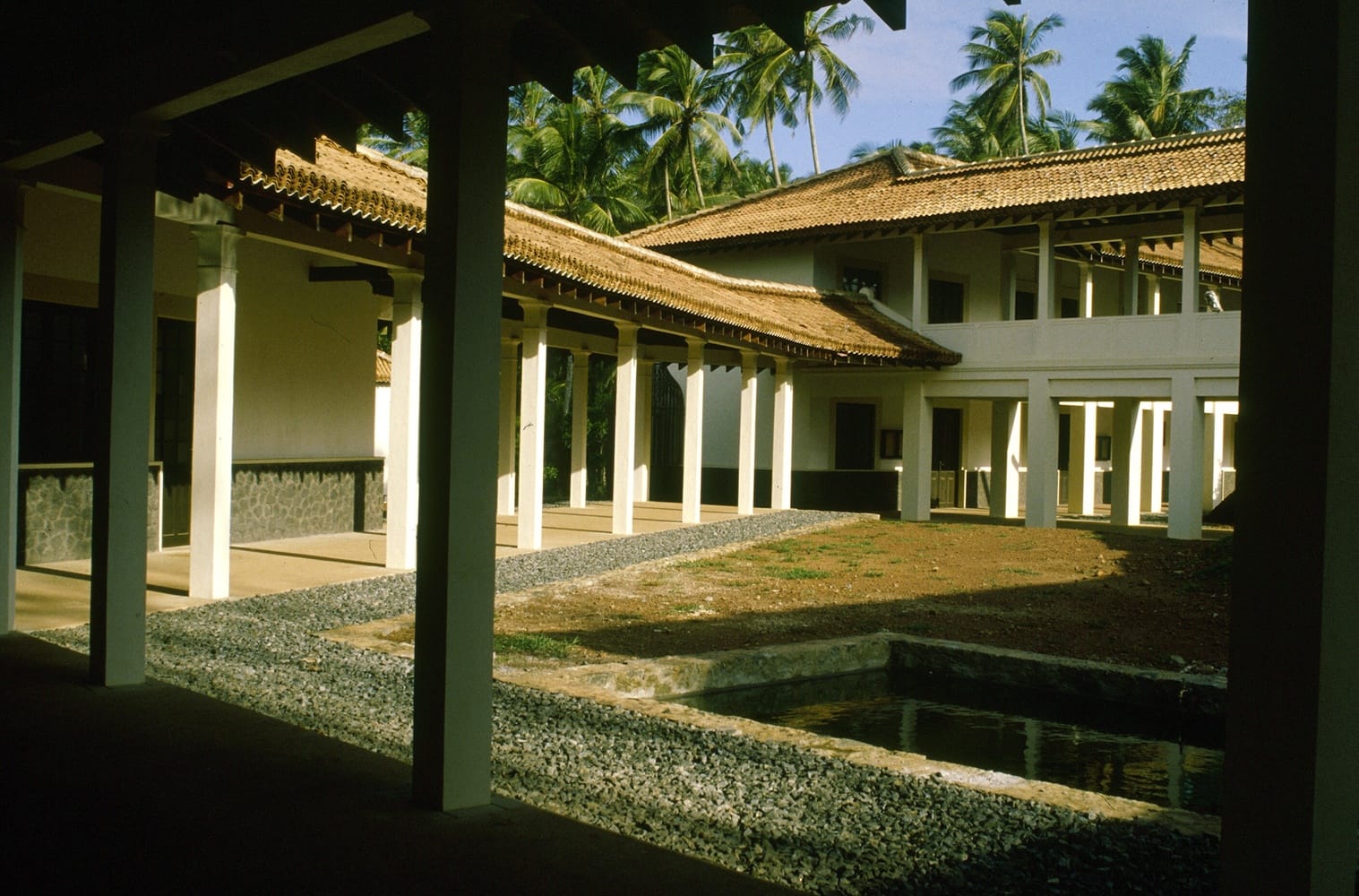 Ruhuna University by Architect Geoffrey Bawa (Distance 7km)
The founding father of the so-called Tropical Modernism, Geoffrey Bawa, was one of the most influential and prolific Asian architects of his generation. He produced "sustainable architecture" long before it became a fashionable trend. Born in Sri Lanka in 1919, he established a new standard of design that combines traditional Sri Lankan forms and a distinctive contemporary style blending buildings with their natural environment, interconnecting outside spaces with the inside.
In 1979, Bawa designed Ruhuna University; it's worth a visit and just 15 minutes from Talalla House.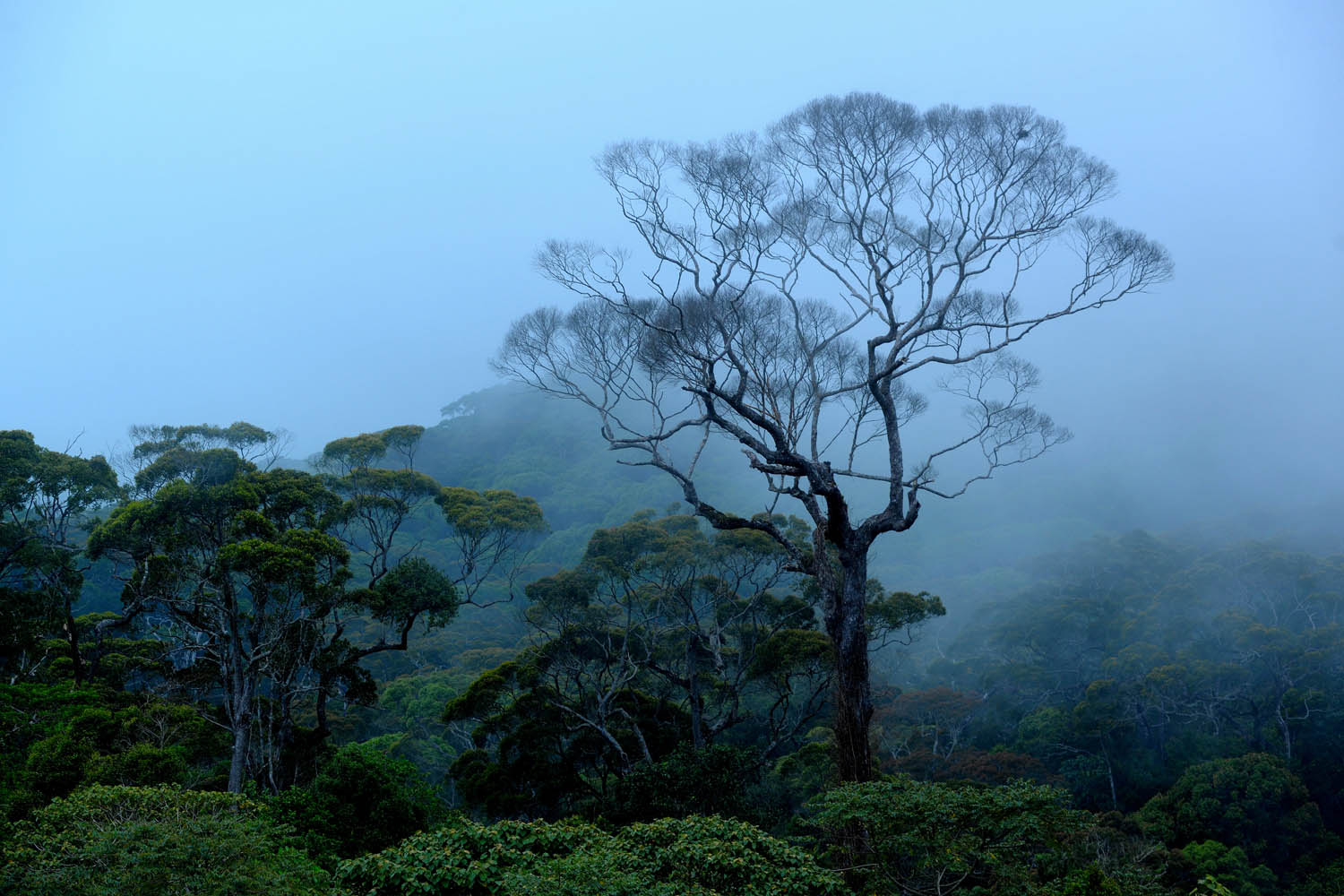 Sinharaja Forest Reserve (Distance 85 km)
Take a walk through Sri Lanka's last lowland rainforest. You will be accompanied by a guide to help point out green lizards, snakes, and other wildlife. Bring your swimsuit and cool off under a beautiful waterfall. Sinharaja is the last major undisturbed area of rainforest in Sri Lanka, and this forest reserve occupies a broad ridge at the heart of the island's wet zone. On most days the forest is shrouded by copious rain clouds that replenish its deep soils and balance water resources for much of southwestern Sri Lanka. Recognising its importance to the island's ecosystem, Unesco declared the Sinharaja Forest Reserve a World Heritage Site in 1989.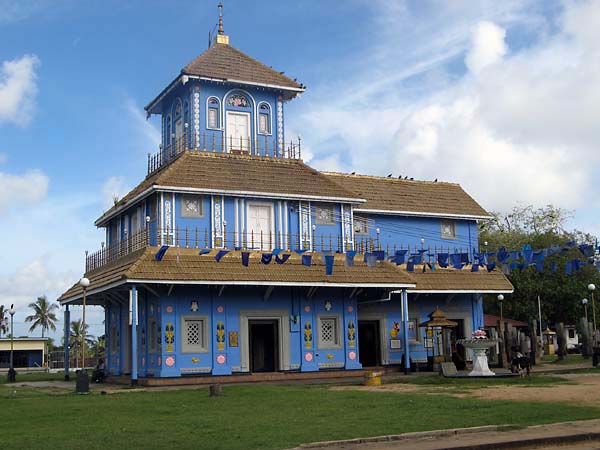 Dondra Devalaya Temple
The shrine was dedicated to God Vishnu, said to be the guardian god of Buddhism, and is a popular spot for pilgrims year round. The temple is the major event site of an annual festival held in July and August. The colour blue is said to be associated with God Vishnu and hence, the Devale is painted in lotus-blue in his honor. The original temple and the Devale (Shrine) was built by King Dappula I (Dapulu-sen) during the seventh century. Combine this trip with a visit to Dondra Lighthouse.
Koggala Lake boat Safari (Distance 44km)
Koggala Lake is alive with bird life and dotted with islands. Observe the sea eagles or meet an endangered purple faced leaf monkey, while you sail among the small islands in Koggala Lake. One island has a cinnamon plantation, another a Buddhist temple, and yet another offers a spice garden famous for its Ayurvedic products. Come along on a scenic boat safari experience. Combine this with a visit to Galle Fort or Unawatuna.