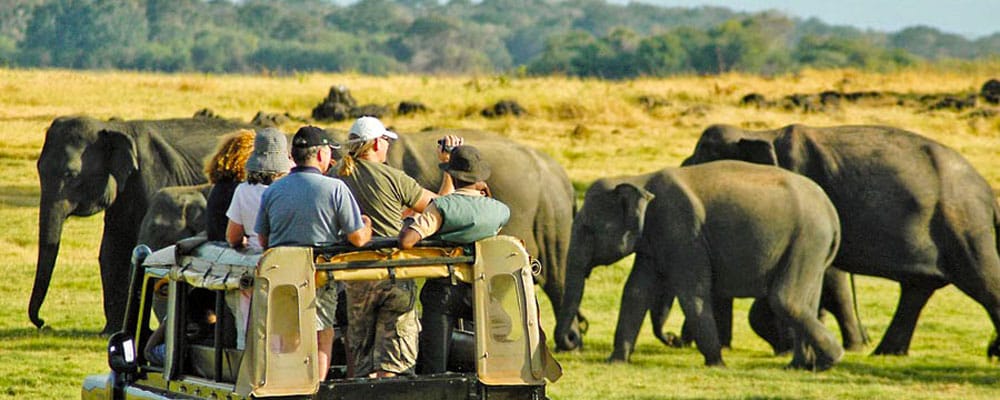 Sri Lanka was the first country in the world to create a wildlife reserve.
Safari in Sri Lanka
Here's Talalla House's rundown of the best safaris to adventure on in Sri Lanka.
Sri Lankans care a lot about animals — their festivals include them and traffic stops if an animal is passing by. Not surprisingly, Sri Lanka was the first country in the world to create a wildlife reserve when King Devanampiya Tissa created Mihintale in the third century BC.
Despite its relatively small size, Sri Lanka has one of the highest rates of biological endemism in the world: 16% of the fauna and 23% of flowering plants are native only to the island. . The island's isolation from the mainland, the heavy rainfall of the two diagonally blowing monsoons, and the country's wide range of altitudes have given Sri Lanka a variation in climate and biodiversity normally found across an entire continent.
One of the best places in Asia for seeing wildlife, a private safari offers you the chance to see some of Sri Lanka's 91 mammals, 16 of which are only found on the island. Keep your eyes peeled for elephants, leopards, sloth bears, Sāmbhar, spotted deer, hogs, barking deer, wild boar, porcupine, ant-eater, civet cat, giant squirrel, and monkeys — lots of monkeys. Many say that for elephant-watching, Udawalawe and Yala surpass many of the most famous East African national parks. From Talalla House, you can reach four national parks on day trips.
We offer safari trips to the following parks. The trips include transportation to the parks, entry fees, jeep rental, and guide. Prepare yourself for an experience of a lifetime.